Fishing on the Emerald Coast of Florida is excellent!  We always stay in calm waters, so no worries of getting sea sick while on our fishing charter.  There are plenty of big game fish close to shore on the Emerald Coast.  Our area has two major inlets leading from the Gulf of Mexico into our beautiful inshore bays and estuaries keeping our waters very clean and full of various species. Our area of the Florida Panhandle has beautiful white sandy beaches, several bays, sounds, and numerous river systems.  While the back country has breath taking scenery, sight seeing isn't all it offers.  Several species of fish can be caught while enjoying those great views.  Some of those species include big bull redfish, huge speckled trout, cobia, tarpon, pompano, snapper, shark, grouper, flounder, kingfish, and amberjack just to name a few!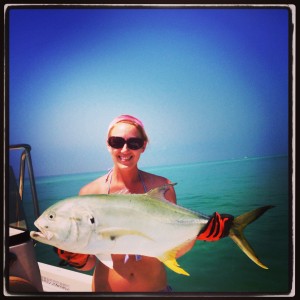 Here in the Florida panhandle along the Emerald Coast we like to use a method of fishing commonly referred to as light tackle fishing.  Light tackle fishing is best for someone looking to fully utilize their opportunities on a fishing charter.  We use light weight rods paired with light spinning reels.  People who venture onto the flats, deep into the backcountry, or out in Gulf of Mexico with high hopes of catching a lot of fish can do so when armed with a light-tackle spinning rod or fly rod.  Predatory fish of massive size cruise the flats devouring endless amounts of bait fish that seek safety in those same shallow waters.  We will give them exactly what they are looking for in the form of live bait or artificial lures depending on your preference.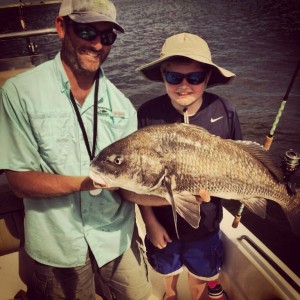 From shallow water redfishing to deep water snapper fishing and everything in between we have all your fishing wishes covered.  We specialize in light tackle fun for every level of fisher-man, fisher-woman, or fisher-kid.  We welcome aboard everyone who wants to get out on the water and enjoy a day along our beautiful white sandy beaches.  We make it our goal to not only allow you to enjoy the fantastic weather and sunshine but also sight fish in our crystal clear waters.  We commonly spot big schools of bull redfish, jack crevalle, cobia, sharks, tarpon, and many more hard fighting gamefish.
For those with little fishing experience, light-tackle fishing offers many simple methods found successful while fishing. Casting a small bait a far distance is a breeze when using a light-action spinning rod.  If casting directly to a fish sounds like something you would like to try on your charter, we can certainly do that.  If sight fishing seems too challenging don't worry, a ton of spots exist along the Emerald Coast of Florida where anglers can simply PowerPole down or drop anchor, and wait for gamefish to find our already perfectly placed live or artificial baits.  Another great way to put lots of fish in the boat is by trolling.  This has been a long time favorite method for catching a wide variety big game fish in Northwest Florida for many years.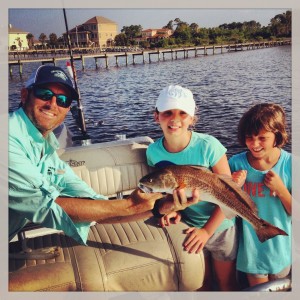 If cruising offshore to troll for big smoker king mackerel or sailfish is more your speed, we've got you covered there too!  Along the Emerald Coast of Florida we do not have to travel far from shore to get to deep water and catch large pelagic fish.  This means more time fishing and less time getting to the spot.  When out in deep water we commonly drop a line down to the bottom for some delicious red snapper or grouper for the dinner table.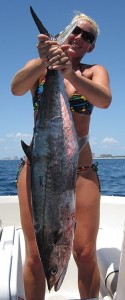 It's all about having a good time, anyone can do this on light-tackle!