Your fishing charter will be guided by Captain Mike Bauman.  He has been a nature, wildlife, and outdoor enthusiast all of his life.  Captain Mike is a very laid back and easy going fishing guide that takes his job very seriously and is passionate about catching fish.  He always treats every single fishing charter as if it were his own family going on the trip. He is very accommodating and will go above and beyond to make sure you have the best time possible on the water and catch lots of fish.  Making his clients smile and creating memories that will last a lifetime is what drives him to be one of the most well respected and dedicated fishing guides on the Emerald Coast of Florida.
Growing up in the mid-west, he would look forward to the weekend fishing trips he and his father would take to their log cabin a few hours outside of St. Louis.  It was there, on the fresh water lakes and rivers that he learned the fundamentals of fishing.  As he grew in age and stature, so did his passion for everything fishing.  Later, he and his wife decided to make a life changing move to the beautiful Emerald Coast of Florida where he discovered a new kind of excitement and passion, Saltwater Fishing.
After moving to Florida, Mike was fortunate enough to meet and learn from some of Florida's best fishing Captains and Guides in the area.  After studying extensively and learning from the very best all along the Gulf Coast he learned all of the fine details of saltwater fishing.  It was then only natural for him to pursue his life long dream of becoming a saltwater fishing guide.  Specializing in light tackle bay and flats fishing.  The enthusiasm and passion that Captain Mike holds for salt water fishing is reinforced every day by living here on the Emerald Coast and fishing all the beautiful areas along the Florida panhandle.  He has fished the rivers, bays, intracoastal waterways, and the Gulf of Mexico extensively since living here in his own personal paradise and would like to share that paradise and enthusiasm with you.  Having spent much time serving the public in emergency medicine, he regards safety very highly.  Captain Mike is also a licensed paramedic.  One can rest assured that no matter the situation, your fishing charter will have safety as top priority.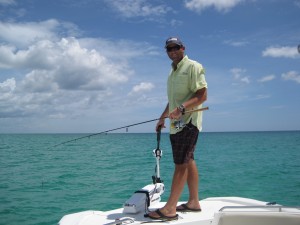 U.S.C.G. Licensed Captain, and fully insured fishing charter. Member and supporter of the Florida Guides Association, Coastal Conservation Association, National Association of Charter Boat Operators, EMT-Paramedic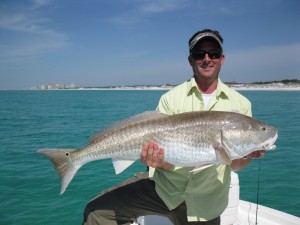 (Bio written by his biggest fan and supporter, his loving wife- Gina:)